How Does The Ram 1500 Hold Up Along Side Other Trucks?

The Ram 1500 is one beast of a vehicle, and you're about to find out why. This awesome truck stands tall among its competitors, never falling short. If you're looking for a truck in the Archbold and Defiance areas, then Terry Henricks Chrysler Dodge Jeep Ram is the perfect place. We have a huge selection of Ram 1500 trucks to check out and are eager to prove why the Ram 1500 is the best. Check out these side by side comparisons and see for yourself. You'll find the truck you love for the price you'll appreciate in our new vehicle specials.
Ram 1500 vs. Chevrolet Silverado 1500
It certainly is important to consider power when you're buying a new vehicle. The new Ram 1500 boasts far more horsepower than the Chevrolet Silverado 1500. With 305 horsepower vs. the Silverado 1500's 285 horsepower, the new Ram 1500 is the clear winner.
We know owning a truck is all about power and performance, but we wanted to throw out there that the Ram 1500 also brags great gas mileage. With a combined fuel economy of 22 miles per gallon, you'll outdrive the Chevrolet Silverado, who brags just 20 miles per gallon. Two might seem like a small number, but when it comes to emissions and gas prices, every mile counts.
You and your passengers should be comfortable in your truck. That's why the Ram 1500 boasts more rear legroom than the Chevrolet Silverado 1500. A truck is an everyday tool, and being comfortable in everything you do is a must.
When it comes to owning a vehicle of any type, being able to customize it to your unique desires matters. With seven interior shades for the Ram 1500 and just four for the Chevrolet Silverado 1500, it's clear who's all about giving you options. The Ram 1500 also boasts eleven exterior options, vs. the Silverado's eight.
Ram 1500 vs. Ford F-150
It's hard to stand up to one of America's favorite vehicles, but the Ram 1500 does it with no problem. The new Ram 1500 features a build that blows the competition out of the water. With the Ram 1500, you'll experience a smooth and calculated ride no matter what you're carrying, the F-150 has trouble with an empty bed.
Technology is important these days, it's part of almost everything you do. That's why the new Ram 1500 boasts several standard technological features that are just optional on the Ford F-150. Bluetooth, keyless ignition, and cruise control are all some of Ram's top priorities to make your drive the best it can be; the Ford F-150? Not so much.
With the Ram 1500, you'll find comfort is available where it isn't on the F-150. Ram offers heated seating as well as a sunroof and folding rear seats. The F-150 doesn't even make those available for the base model. More variety, bigger selection; that's what you get with the Ram 1500.
Power is important, and a supportive engine is something that everyone can get on board with. The Ram 1500 boasts 305 horsepower, where the Ford F-150 only has 290 horsepower. The Ram 1500 also comes out on top when you check out the standard fuel tank size. The Ram 1500 shows off with a 26-gallon capacity, and the Ford F-150 falls short with a mere 23-gallon capacity.
RAM 1500 vs GMC Sierra 1500
Delta and Swanton residents know better than to overlook the Ram 1500. When compared side by side with the GMC Sierra 1500, there's absolutely no competition. When comparing two models with similar trim levels, you always get more with Ram. Bragging 19 miles per gallon when you take a look at the combined fuel economy, the Ram 1500 comes out ahead by two miles.
Talking towing is something that the GMC Sierra 1500 doesn't want to do. With a maximum capacity of 9,300 pounds on the Denali version, the GMC Sierra 1500 falls short by a lot. Depending on what packages and trim level you go with, you can tow up to 12,750 pounds with the total beast that is the Ram 1500.
When it comes to interior comfort, the Ram 1500 wins again. This awesome vehicle offers up with the largest in class touchscreen for navigational and infotainment purposes. 12-inches of easily accessible screen are comfortably set into the dashboard for easy access. The GMC Sierra features an 8-inch diagonal screen that just can't catch up.
The Ram 1500 will allow you to enjoy every aspect of driving with the available 19-speaker Harman Kardon Premium Audio System. Singing along to your favorite tunes won't be the same with the GMC Sierra 1500's Bose sound system.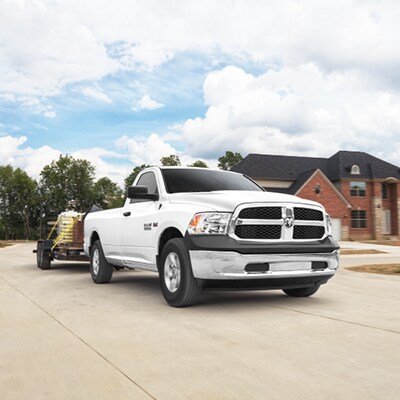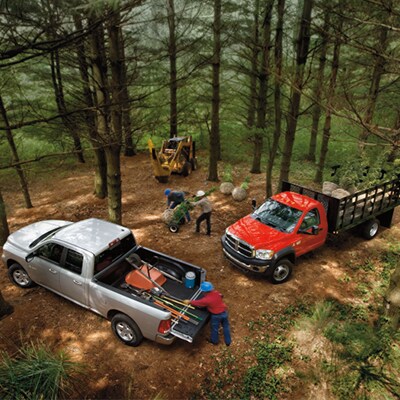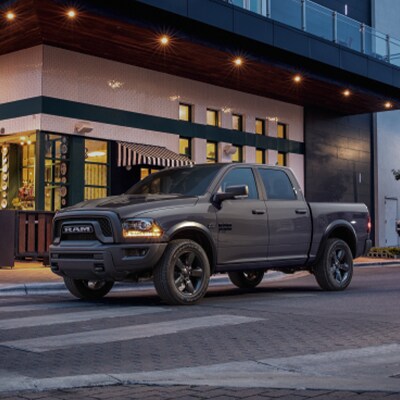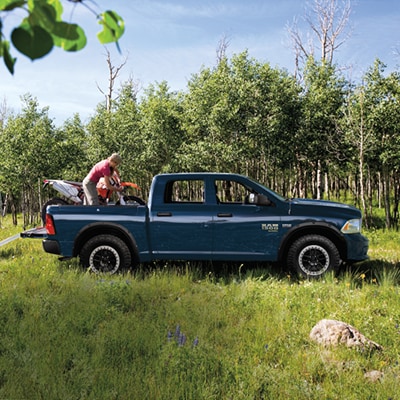 We at Terry Henricks Chrysler Dodge Jeep Ram, just down the street from Napoleon, are more than excited to gas up the amazing Ram 1500. This truck is dripping with style and poise and will allow you to truly enjoy your life as a truck owner. When compared side by side with the competition, it becomes clear as day what the right choice is to meet your needs. We welcome you to test drive the Ram 1500 or to reach out with any questions.
Test Drive RAM 1500 Today!